Chapter II
William Henrie
"HEIR"
WILLIAM HENRIE, 2nd child of Daniel & Sarah (Mandel-Mandal-Mondel-Mandall) Henrie, was b. 11 Sept. 1799, Virginia or Pennsylvania1 [bapt. in Mississippi River 17 July 1842, end. 22 July 1846], d. 18 Dec. 1883, Bountiful, Davis Co., Utah, and bur. there 20 Dec. He m. 17 Nov. 1824, Cincinnati, Ohio, to Myra Mayall, dau. of Margaret Mayall. 2 Myra was b. l Nov. 1803, Saddleworth, Yorkshire, England [bapt. end. & S. to H. 20 May 1856]. She d. 3 Feb. 1893, in Panguitch, Utah, and bur. there abt. 5 Feb. in the Samuel Henrie burial plot.
---

1 Tradition in the family of one of his descendants tells that William was from Marietta, Pennsylvania, but research in Lancaster Co. does not reveal records of any Henrie family. The general locale for the Henry-Henrie family was New Jersey.

---
---

2 Tradition in the family of one of Myra Mayall's descendants says: "She came to America with her mother when she was one month old, her father having died before she left. Her mother later married James Radcliffe."
A hired research worker in England found records of "Myra Mayall born to Margaret Mayall, 1 Nov. 1803" and no father is given. Research in England does not reveal the marriage of her mother Margaret Mayall until some time after the birth of Myra, when Margaret married a James Radcliffe. Since Myra carried the surname of Mayall, it may be surmised that she was born out of wedlock. In the two patriarchal blessings given Myra she mentions only her mother, which would indicate she had no knowledge of her father's name. Neither has research revealed the date and the circumstances of Myra's migration from England--her mother never immigrated to America. Little is known of Myra's life up to the time of her marriage to William Henrie.

---
William Henrie is designated "heir" of the family and emigrant ancestor of the Henrie family in Utah.
In 1842 William and Myra affiliated themselves with the Church of Jesus Christ of Latter-day Saints, commonly called "Mormons," and soon after moved from their home in Kirtland, Ohio, to Nauvoo, Illinois, with their family excepting Daniel, the eldest son, who did not join the Church at that time.
They acquired an 80 acre tract of land, where they lived until the Saints were mobbed and driven out of Nauvoo in 1846. They then joined Brigham Young and his company of pioneers to come to Utah.
When the migration was well under way, they were divided into units of one hundreds, fifties, and tens, which helped in the order of travel. William was made Captain of the 5th ten.
The company of the "original pioneers" numbered 142 men, 3 women, and 2 children, and was meagerly supplied with oxen, wagons, firearms, plows, seed, gratin, food, and the necessary camp equipment. [p. 9]
Leaving the main body of the people upon the Missouri River with instructions to follow later, the pioneers started from Winter Quarters, now Florence, Nebraska, early in April 1847. They traversed the tractless plains and over snow-capped mountains, penetrating the very heart of the Great American Desert, and arrived in Salt Lake Valley on the 24th day of July 1847.
William assisted in locating the Saints in the 'Old Fort' which was built on the present site of Liberty Park in Salt Lake City. Then the Bowery was built and in April 1849 he was one of the speakers at a meeting held there. Later, the same year, he was appointed a member of an exploring party sent out to locate suitable locations for settlement in the region of Utah Lake. Eventually he and his wife Myra established a home in Bountiful, Davis County, Utah.
They were very happy here with their family for a time. They had a fine farm and were prospering when a call came from Brigham Young to go and colonize Panaca, Lincoln County, Nevada, or the "Muddy" as it was then called. It is not definitely known why he did not respond to Brigham's wishes. No doubt he felt he had had enough pioneering and did not want to go to new frontiers. His wife Myra and some of her children, at least James and Samuel with their families, joined the company and went to Panaca. They did not return to Bountiful, even after the settlement at Panaca failed, but went to Panguitch, Iron County, in the southern part of Utah, now Garfield County, on the Sevier River.
Myra made her home with her son Samuel and remained with him until a few months prior to her death, when she lived with her son James. She died at his home and was buried in the Samuel Henrie family lot. She was one of the early school teachers of Panguitch, a faithful Latter-day Saint. She was ever an active and willing worker in the Church and community when the opportunity was given her.
William spent the remainder of his life in Bountiful on the original farm. Correspondence with friends and neighbors reveals the fact that he lived alone and was buried at Bountiful. His descendants have paid for perpetual upkeep of his burial lot.
In answer to a letter written to the County Clerk of Farmington, Davis County, Utah, relative to the disposition of his property, the writer received the following:
Dear Mrs. Henrie:
In answer to your letter we wish to state that in checking our records we find that the estate of William Henrie was probated in our court in 1884; that Mr. Henrie left a will which stated he was 84 years of age at the time the instrument was executed and that he died about December 17, 1883 (death date was December 18). He left his entire estate to the East Bountiful Ward.
Yours very truly,
R. Bruce Major, Clerk
by Afton Smith, Dep. Clerk [p. 10]
---
William and Myra (Mayall) Henrie had 7 children:
1. Daniel Henrie, b. 15 Nov, 1825, Hamilton Co., Ohio; m. (1) Amanda Bradley; m. (2) Susan Coleman. (See Chapter III.)
2. James Henrie, b. 18 Sept. 1827, Miami, Hamilton Co., Ohio; m. (1) Rneana Hatch; m. (2) Christena Schow; m. (3) Gedske Schow. (See Chapter XI, p. 152.)
3. Joseph Henrie, b. 20 Apr. 1829, Miami, Hamilton Co., Ohio; m. (1) Susan Duncan; m. (2) Susannah Lasley; m. (3) Mrs. Olive Pitkin. (See Chapter XXVI, p. 313.)
4. Margaret Henrie, b. 25-26-28 Aug. 1831, Colerain, Hamilton Co., Ohio; m. Moses Daley.
5. Sarah Henrie, b. 6 June 1834, Colerain, Hamilton Co., Ohio, d. 6 Oct. 1836 [S.to P. 1940s].
6. Samuel Henrie, b. 27 July 1836, Blue Rock, Hamilton Co., Ohio; m. Hannah Isabella Ellis. (See Chapter XXVII, p. 332.)
7. Mary Henrie b. 22 July 1839, Colerain, Hamilton Co., Ohio, d. 29 June 1843 [S.to P. 1940s].
References: Biographical Ency. Vol. 4. Pioneers and Prominent Men of Utah, p. 930. History of Utah, "Daniel Henrie," by Whiting, Vol. 4, p. 218. Biographical Ency., "James Henrie," Vol. 1, p. 800. Utah Gen. & Hist. Mag., Vol. 9-10.

MARGARET (HENRIE) DALEY

MARGARET HENRIE, 4th child of William & Myra (Mayall) Henrie, was b. 25-26-28 Aug. 1831, Colerain, Hamilton Co., Ohio [bapt. June 1842-3, end. 10 Nov. 1855], d. 21 July 1896. She m. 2 Nov. 1852, South Bountiful, Davis Co., Utah, to Moses Daley, b. 7 Feb. 1827, Florence, Huron Co., Ohio, d. 28 Dec. 1881, Riverside or San Bernardino Co., Calif. [She was S.to P. 1940s.] They had 7 children:
1. Moses Judson Daley b. 2 Nov. 1853, So. Bountiful, Davis Co., Utah; m. 23 July 1872, to Mary Jones.
2. Myra Estelle Daley, b. 13 Apr. 1856, So. Bountiful, d. 5 Apr. 1898; m. 15 Arr. 1384, to W. W. Crandall.
3. Elmira Adelade Daley, b. 2 June 1858, Springville, Utah, d. 31 Aug. 1898; m. 20-30 Nov. 1881, Jasper N. Corbett.
4. Margaret Daley, b. 6 Feb. 1861, San Bernardino.
5. Rosette Hiley Daley, b. 22 Mar. 1863, San Bernardino, d. 11 June 1881.
6. William H. S. Daley, b. 17 Apr. 1865, San Bernardino, d. 14 Aug. 1892.
7. Effie Rhoana Daley, b. 30 Sept. 1869, San Bernardino. [p. 11]
---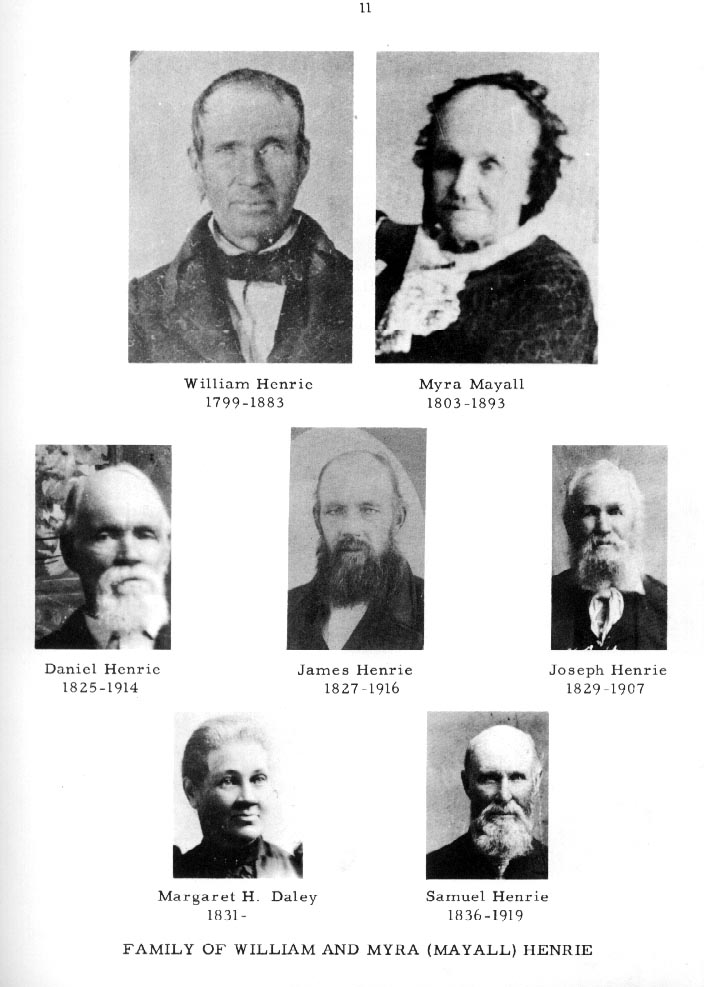 ---
[p. 12]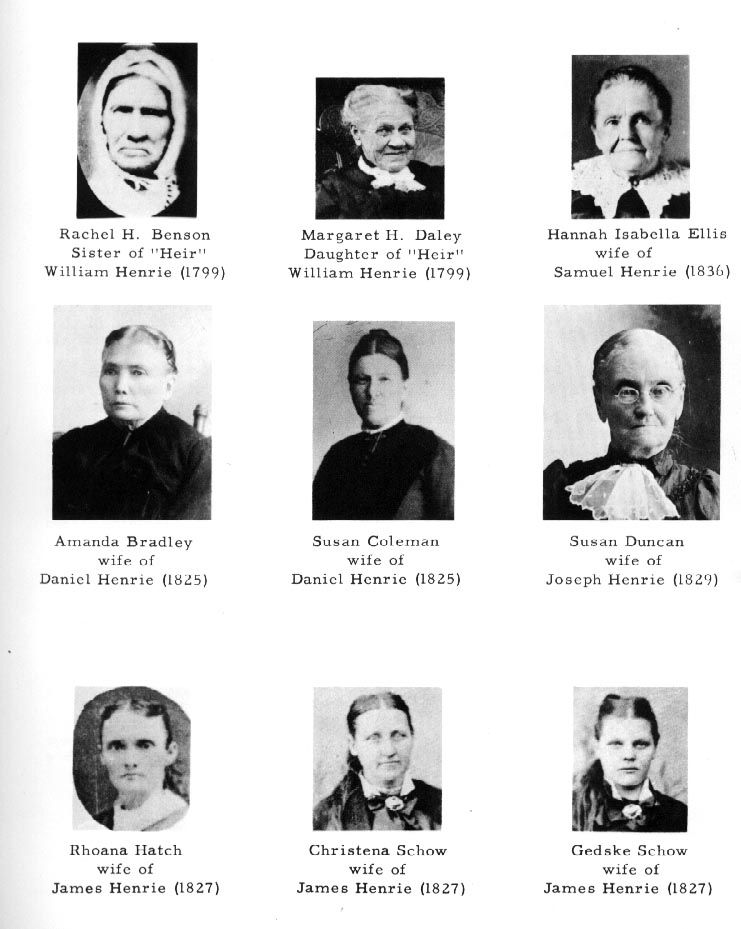 ---
[p. 13]